Management Policy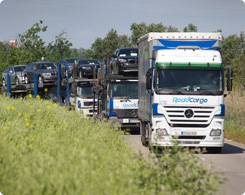 Quality and Environmental Policy
Rodo Cargo, S.A. has an Integrated Management System implemented under the terms of the National and International Road Transport of Vehicles, offering integrated logistics solutions, such as Parking, Preparation, Processing and Reparation of transported vehicles.
The development of Rodo Cargo, S.A. as a modern organization able to successfully face the challenges of the future and the growing needs of customers and stakeholders is based on a strategic investment in the quality of services and the respect for the environment.
Rodo Cargo, S. A. defines and understands Quality and Environment as an integral part of their corporate culture, as well as an unquestionable way for continuous improvement. By having as its main objectives the effectiveness and efficiency of services provided, Rodo Cargo, S. A. intends to ensure the full confidence of clients and stakeholders. Therefore a set of criteria that support its organizational culture has been defined, including:
Punctuality regarding the deadlines of collection and delivery of transported vehicles and goods.
Swiftness of shipping between the loading and unloading of transported vehicles and goods.
Accuracy and quality of parking and vehicle preparation for clients.
Safety of transported vehicles and goods, which involves the need of delivery without damage.
Information regarding the development of information exchange systems between partners - Customer, Supplier and stakeholders
Integrated Logistics Solutions to reduce the number of the clients suppliers and enable cost savings in the management of their transports
Flexibility of the carrier in the negotiation and resolution of any discrepancies.
Adoption of solutions that enable reducing and optimizing resource consumption.
Careful and proper management of all waste generated.
Monitoring pollutant emissions and discharges.
Ongoing search for solutions and environment-friendly products.
Implementation of principles that ensure compliance with legislation and requirements, in a process of continuous improvement regarding the environmental aspects.
Development of measures to increase the employees' habits and behaviors favorable to the prevention of pollution and consequent environmental protection.
Consequently, the Company has developed a Quality and Environment Management System under the ISO 9000 and ISO 1400, in particular the NP EN ISO 9001 and EN ISO 14001, described in the Quality and Environment Manual, with the primary objective of minimizing service failures and their costs, in order to continuously improve the quality and cost of service delivery, increasing likewise Environmental protection, thus fulfilling the motto "excellence in road transport".
This objective can only be achieved with the involvement of all the people who work for or in the behalf of Rodo Cargo, S. A., carrying out activities formalized in the Quality and Environment Management System documents and that serve as a reference to their performance and associated with a sustained policy of reinvestment that ensures the continual updating of the fleet and other technical means used in the service provision and prevention of pollution.
To ensure this momentum, Rodo Cargo, S. A. periodically establishes the qualitative and quantitative goals deriving from the company's Quality and Environment Policy.